It's here!
Porter Freight Funding has launched its new app on the Apple App Store and Google Play and we are excited to tell you about it.
How it started…
Porter Freight Funding first came to MotionMobs seeking a way to convert their existing web application into a mobile application. This way, freight carriers and drivers could easily document and submit loads, request credit checks, and complete deliveries all on the go from their mobile device. As a full-service MotionMobs client, Porter first went through consulting to understand the functionality and cost that would be associated with a mobile application in order to make the company more competitive and generate a return on investment.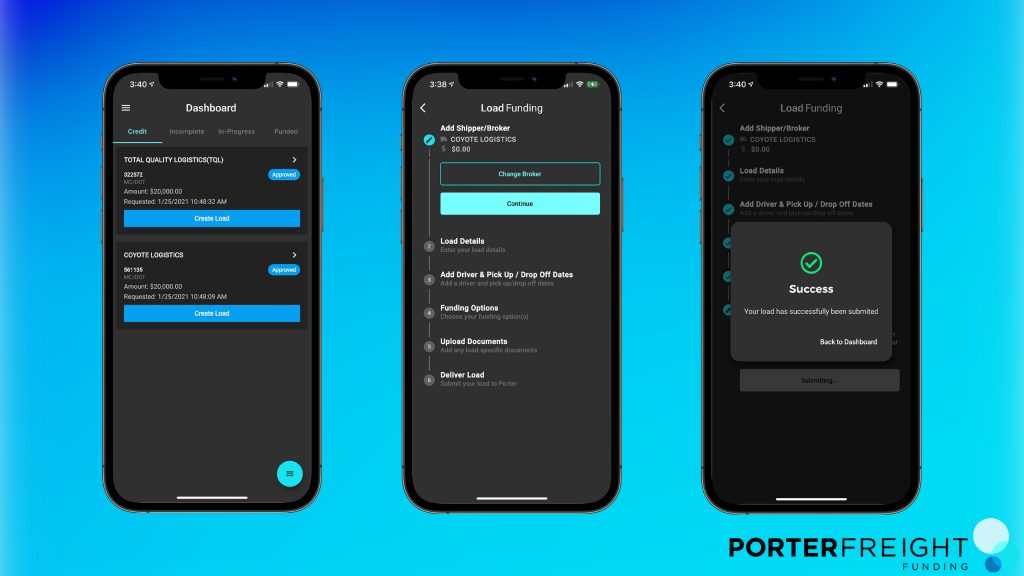 Mapping it out
As a consulting client, MotionMobs worked with Porter for several weeks to understand other competitors in their market and what tools already exist, as well as how a mobile app would benefit the company and its existing processes by integrating with existing factoring software like HubTran and FactorSoft. The application also needed to take into consideration the different kinds of user types like drivers, carriers, owner-carriers, and Porter administrators. MotionMobs helped evaluate the return on investment of the cost and maintenance of the mobile app, taking into consideration how the build out of certain functionality would benefit existing drivers and attract new ones. It was important to understand by how many additional loads could be approved, tracked, and processed using a mobile solution.
Once the consulting phase was complete and the technical investment was discussed and evaluated, Porter decided to move forward with the development of their application. Development began within the next sprint after approval, and the MotionMobs development team got to work.
Straight to development
Developing the application took careful planning and considerations around integrating with existing systems and making sure that the user experience was top-notch. Users needed to be able to quickly understand what loads they had approved and which ones were incomplete. The application used the existing backend server to pull over historical information and store new data. It integrated with the third-party software to quickly approve or deny credit checks and help expedite load approval. The application also needed to allow drivers to take pictures of necessary documents and upload them into the application for accurate documentation for loads and load completion.
Throughout the development phase of this project, MotionMobs worked closely with Porter to make sure that the application was not only comprehensive, but was also designed in such a way that the user experience would motivate drivers to continue using the app and made it enjoyable to do so. This took careful planning and clear communication around what Porter needed the application to process and how that integrated with the company's existing systems.
MotionMobs' COO, Emily Hart, managed the consulting engagement and oversaw a bulk of the communication during development:
"There's a notable learning curve to understanding all of the lingo of transportation and logistics. Through consulting, our team was able to immerse themselves in Porter's environment and their needs to develop an application tailored to a very specific end user. Porter's John Land embraced the constant need for software to grow and respond to users, and his perspective on the long-term roadmap was crucial to the app's success."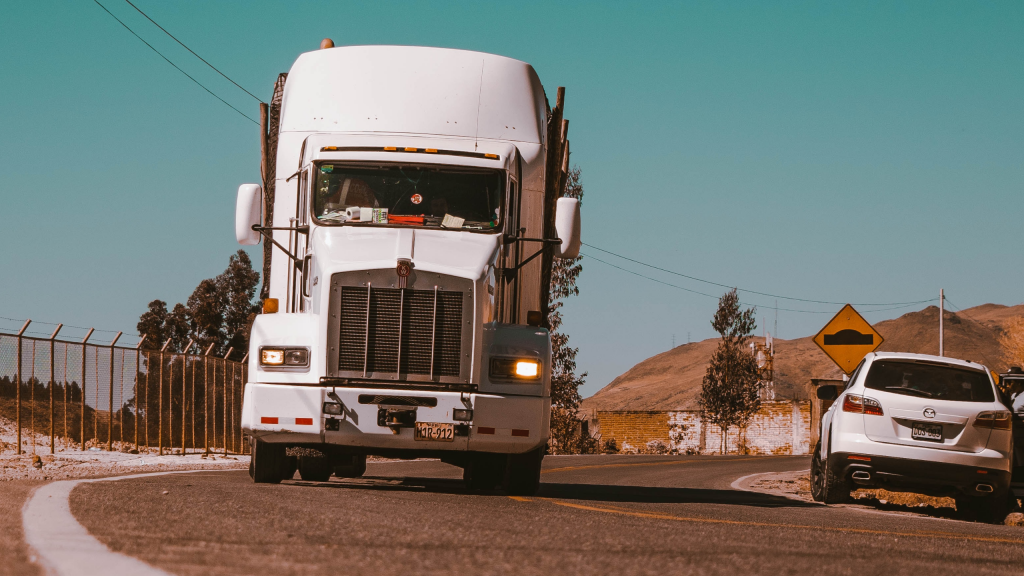 How it's going…
The result is a newly designed application that allows for expanded or restricted views of the application and its functionality depending on the user. For example, Porter administrators are able to navigate current, incomplete, in-progress, and funded loads. For incomplete loads, the application notifies the administrator what information is missing and needs to be added in order to process the load for a driver. It also displays to users what loads were submitted and which ones are completed.
In a similar but restricted view, drivers are able to see what loads they have been assigned, which loads are incomplete, and which ones they have in progress. This way, drivers are able to focus on their loads within their pipeline and update those that are listed as incomplete. The app is also able to capture GPS coordinates of the driver's device at the time of submission to insure delivery accuracy.
Overall, the Porter Freight Funding application was one where MotionMobs enjoyed working with a client on both the consulting and development of their application. By going through the consulting process, the application was able to go straight into development once the functionality and strategic plan were approved. Throughout development, our team was able to work closely with the Porter team, creating a solid foundation for their mobile application that can be added to for years to come.
So go ahead and check it out! We are very proud of this application and our partnership with Porter Freight Funding. From a technical roadmap to being on the road, we are excited for this app to be in the app stores and ready for use!