Being a teenager is tough. Some days you want to hide in your room and be invisible. Other days you yearn for attention and validation. The best people who understand teenagers… are other teenagers.
App with purpose
GirlSpring's mission is to empower teenage girls to reach their full potential through inspirational role models, reliable information, and engaging events. Because the easiest way to find a teenager is through a mobile device, GirlSpring looked to MotionMobs to build a new mobile app for their online community by girls, for girls.
"The GirlSpring board of directors and the Springboarders shared a dream to deliver their original blog content through a native mobile app, and it's been rewarding to build an experience that's exclusively for them," GirlSpring executive director Kristen Greenwood said.
Hiring MotionMobs was a way to both bring the app idea to life and continue to uphold the core commitment to providing role models to the GirlSpring girls, such as women in STEM careers.
"It was important to have a woman-owned business involved in the app's development. Taylor and Emily are both great role models for young girls to look up to," Greenwood said.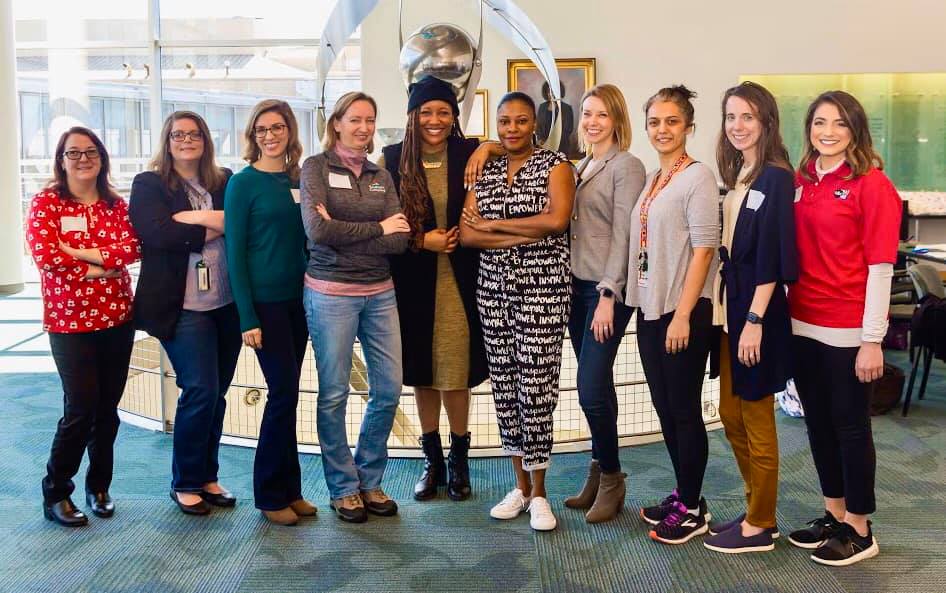 GirlSpring offers workshops, panel discussions, and webinars to help connect girls directly with women in a wide variety of careers. Whether it's finance, health, law, construction, or anything else, GirlSpring strives to inspire girls to pursue whatever career interests them, no matter what. As a woman-owned technology company, MotionMobs deeply supports GirlSpring's efforts to empower teen girls to chase their dreams.
First things first
The app began as a brainstorm among the Springboarders, who are a group of high school girls who produce the majority of the content for GirlSpring's online community. Lauren Choi, a Springboarder at the time, was working in an internship with Google after winning a competition and started mapping out visuals for the future GirlSpring app. MotionMobs used Lauren's mockups as a launching point for building out the underlying structure for the app.
Greenwood and the advisory board started the process with MotionMobs by going through a consulting period, even though the mockups were already complete. This essential step helped clearly define the effort and cost required for each potential feature to direct their fundraising efforts to begin development. The process helped map out strategic decisions to keep the upfront investment minimal and plan for future additions to the app after the initial release, which will help expand the reach of the app.
Shifting structure
One of the big tasks that came along with shifting the user interface to a mobile device was the organization of content. On a smaller screen, consolidating tag categories to make browsing faster and easier was essential. A native mobile app also allows individual users to customize their experience to their preferences, which are based on this new organization model. To further incentivize girls to download the app for reading, GirlSpring also introduced mobile-only exclusive content that users can only find in the app.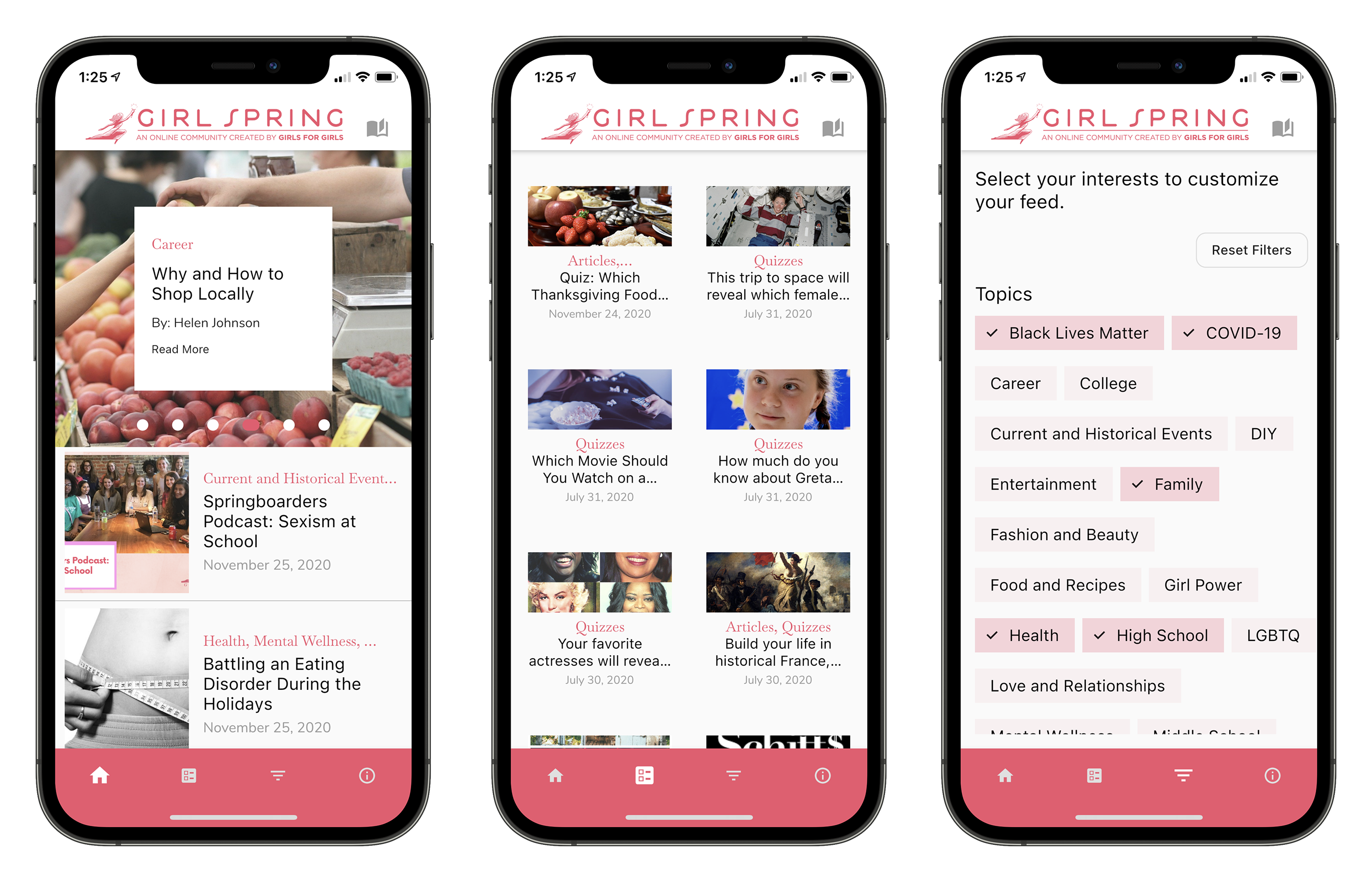 Content focus
The GirlSpring readers faced an increasingly complicated world while the app was in development, including shifting to remote learning in the midst of the COVID-19 pandemic, grappling with how to respond to racism, and facing the reality of maintaining mental health while feeling separated from friends. These core issues fostered new categories for content in the app, and the Springboarders rose to the challenge to address these tough topics.
While the app's audience may still be young, these girls are observant, empathetic, and action-driven critical thinkers. The app is merely a delivery mechanism for their inspired and poignant conversations. The GirlSpring app is a must-have for all girls ages 13 to 18, and parents and community members can support their work here.
Partners
The GirlSpring app wouldn't be possible without the commitment of every partner involved in the project. While MotionMobs completed the development work, there was incredible support from The Community Foundation of Greater Birmingham, BlueCross BlueShield of Alabama, Junior League Birmingham, and Medical Properties Trust. MotionMobs also worked with local Birmingham firm Markstein to ensure the Girlspring website and the app worked in harmony with each other.
Download
Get the GirlSpring app today on Android and iOS. Download in the App Store or on Google Play.